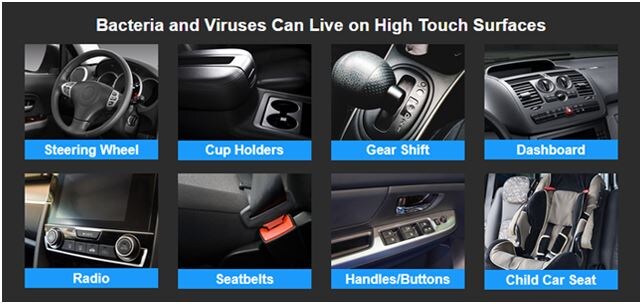 Call today to schedule (513) 817-0401

The Clorox Total 360 System utilizes innovative electrostatic spray technology to allow Clorox disinfecting and sanitizing solutions to reach surfaces outside the line of sight covering what conventional trigger sprays may miss, including the sides, underside and backside of surfaces.  It works by using an electrode to introduce an attractive charge to the disinfecting or sanitizing product and atomizes the solution, using an air compressor to generate a quiet, but powerful liquid flow.
The Clorox Total 360 treatment kills 99.9% of the germs and bacteria inside your vehicle in 5 seconds and gets your car GERM FREE and ODOR FREE with NO residue and inhibits the growth of mold and mildew.  EPA registered to kill 44 organisms, including cold and flue viruses, MRSA and Norovirus.
Clean you can see, germs you can't! Trust Clorox to kill the germs that come along for the ride.  We want to help you best protect your family.

Normally $34.95 but now ONLY $24.95.  Call today to schedule (513) 817-0401!